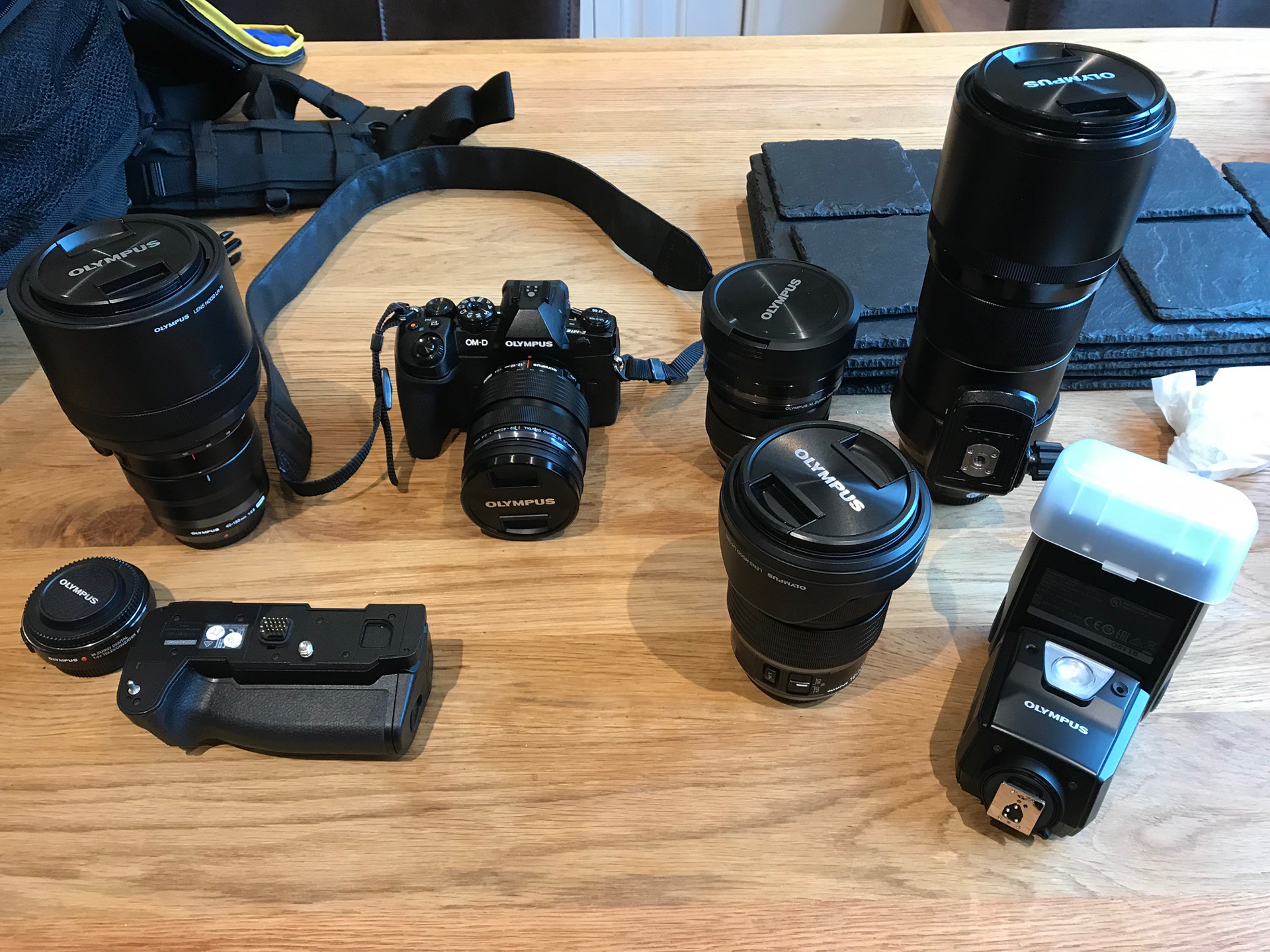 About a month ago I registered a request with Olympus to be part of their pro loan program for a OM-D E-M1 Mkii. I never expected to hear any more. To my surprise I was invited to join the program and Clare Harvey-May offered me a 4 week trial period of the body and a couple of lenses. I politely requested if I could try more of the extended range of lenses as I was considering moving from my DSLR to a micro 4/3 solution to reinvigorate my interest in photography and lighten the load in my backpack.
Clare couldn't have been more helpful and suggested she would try to fit me into the program as soon as possible. In less than a week Clare had arrived, delivered a full range of lenses, a flashgun, grip and batteries for me to trial the new model. All of this was provided in an amazing Olympus backpack which was one of the best I have seen or used. The handover took less than 30 mins and without paperwork or signatures required (which in this day and age is a sure sign that TRUST still exists) and I was told to enjoy the 4 week trial. 

My own background in photography stretches back over almost 40 years with a variety of formats and camera brands. Less than 12 months ago I purchased an OM-D E-M10 Mkii and have enjoyed using it for casual photographs and had started to favour taking this with me as my go-to camera mainly due to the size and weight.
Having spent a few hours at home playing with the camera to familiarise myself with its many functions I was amazed how much more ergonomic the M1 Mkii is when married up with the Olympus Pro range. It just felt right and the quality feel and build of the equipment was obvious. Impatient as I was I started to snap pictures of my loyal cockapoo after putting some batteries in the FL900 flashgun I had been loaned. Setting it to TTL mode and moving to program mode I found that the exposure on direct diffused flash or bounced flash was perfect. Not something that I found to always be the case with other camera flash guns I have used.
Day 2 and the weather was great. Blue skies and a relatively warm day for late October in the UK. A visit to Portsmouth was planned for some shopping interspersed with some photography (of course). I took with me the body, 7-14mm and 12-100mm which I suspect will be my normal camera bag companions most of the time except for when I need some specialised equipment. They fitted perfectly in my small Tamrac over the shoulder bag previously used for my OM-D E-M10 and whilst a little weightier in combination than the standard lens I have previously purchased the quality feel was a definite plus.
Pictures of the Spinnaker tower, hovercrafts leaving the hover port and the cathedral were amongst the many shots I took over an extended 5 hour expedition. The camera still had 22% battery at the end of the day, and there was no need for me to deploy the second fully charged battery I had brought with me. That was probably a non-typical performance as I spent way too much time "chimping" the images on the articulated display.
The 7-14 gave a fantastic wide field of view but I wondered how I could/ would deploy filters over the curved front element (google suggests that Lee now make an adapter for this lens so I may have to move from Cokin to Lee in the near future).
The 12-100 was great in use and will probably be my everyday lens. The versatility and handling of the lens was exemplary and the option of manual focus override using the clutch mechanism on the pro lens worked like a charm. I experimented with the AF function button which was not present on my other Olympus camera and the AEL worked brilliantly in some challenging lighting conditions.
After spending more than 5 hours taking a variety of images I was pleased to say the experience of using the new Olympus was rekindling my joy of photography once again as it wasn't a chore lugging around the bulk I used to use. Don't get me wrong I will probably always have a full frame camera for the times when the Olympus might not compete (Slim depth of field) but for now I feel that after one day I am seriously considering making the investment in the system. 
Over the coming days I will be exploring the use of the other loaners I have been provided with (40-150 + 1.4x TC & 300mm F4). For those I will be deploying the battery grip and bringing with me either my tripod or monopod for the support. Clare mentioned that she might be able to ship me the 25mm F1.2 during my loan period if it became available and then I would be able to check this out in the studio with my strobes and see how it compares to my full frame experience.
I'm hoping to get to Marwell Zoo with the big lenses one weekend to see if I can capture the big cats and other animals. This will be a great comparison to my images with my Canon 100-400mm experience and a chance to check out the image quality.
 One week on ...
 ...and as usual my work dominates so I've had to squeeze my photography into the weekends with visits to Portsmouth, Chichester, Bosham and Winchester. The camera is handling brilliantly and is so intuitive to use. Everything seems to fall into place and I've experimented with and without the HDL-9 grip. With the grip and a bigger lens I'm getting more attention and curiosity from people in the street but without the grip many people don't stop and ask what camera it is (which is a blessing in disguise :-)
I'm finding the battery life more than enough for a few hours work and with a back up in the bag I've not needed more. Perhaps on a full day of photography I'd need a third or a battery pack charger in the car between locations.
Beginning to realise I would need the 7-14 always with me as it is so versatile in tight locations, for architecture and landscapes where ultra wide is needed.
The image stabilisation is simply awesome. I've never been able to hand hold a camera at such low shutter speeds even though I've practised my "hold your breath" technique on other cameras. The IBIS truly does live up to its name.
Whilst I've not printed any work down yet the sharpness of the images when pushing up to 800 iso (and even 1250) are very detailed and lacking noise in the image. I'm not a pixel peeper but they are the cleanest of any camera I've used and the sharpness and quality of the lenses even wide open is outstanding. The rumours about the image quality of Olympus glass is clearly not overstated.
Next challenge is to break out the tripod/ monopod and use the 40-150 +1.4x Tc and 300m f4. Part of me wishes that Olympus would launch a 200-500mm superzoom. That would have to be in my arsenal and with a 1.4x it would be an amazing combination.
Looking forward to the next days photography and that is something I've not said in a long while. Olympus and their loaner programme has got me back into my favourite hobby and I'm loving it. I won't want to give this camera back and its seriously making me question whether I can live without a DSLR after all.
More to follow.....
I've created this page as a means to motivate me in my passion of photography, especially given that this is something I have had an active interest in over the last 40 years.
Over the coming weeks and months I intend to post comments related to my observations, things I have learnt, mistakes I have made and methods I have used to stretch my hobby to new limits. I've recently purchased an Olympus OM-D E-10 Mkii with 14-42mm standard lens and 40-150mm zoom lens as a more portable alternative to my much loved, but rather bulky, Canon 5D Mkii. It is my hope that by carrying the new Olympus with me more often, and on my commute to London, I will find new photo opportunities and build a more varied website where I can share my images with family and friends.
At the same time I have set myself some personal challenges to get fit this year and have started running, with an aim to be able to run 10k before year end, and generally improve my work/life balance. My other goals include building on my current Adobe Photoshop & Lightroom skills and widening the project categories within this website.
Should be a fun year......!